The Black Pistons Motorcycle Club was founded in Germany and quickly spread throughout the world. This page presents a history of the club with a focus on Canada.
This page is a work in progress and updates are welcome.
2001 – Germany
BPMC is founded. BPMC Neuwied and BPMC Vallendar (formerly Iron Knights) chapters founded. BPMC Neuwied closes that same year.
19 Feb 2002, Eisenach, Germany
The following chapters were formed:
BPMC Gedern (formerly Iron Thunder & Motorcycle Friends Gedern);
BPMC Lippstadt (formerly Rolling Stones);
BPMC Leutershausen (formerly Wildscatters);
BPMC Illmenau (formerly Thüringer guys); and
BPMC Bieberach.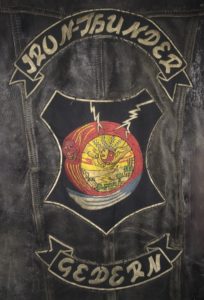 March 2002 – Daytona USA
Satans' Syndicate (Columbus Ohio) patches over to BPMC at Daytona Bike Week followed soon after by a club called Sacred Society MC (Deltona FL), who hosted the campground for Satans Syndicate during that Daytona run. The Deltona chapter did not stay open long.
Another chapter opening in Ocala, Florida very soon after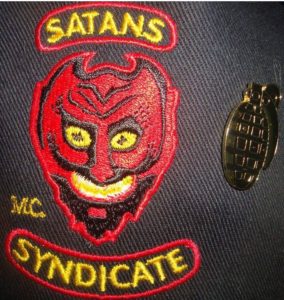 19 August 2002 – Shelbyville, Kentucky
First BP clubhouse in US opened
17 Feb 2003 – Birmingham, UK
The Brotherhood (Birmingham) patches over to BPMC with 10 members rapidly followed by chapters in London and around the country.
Membership declined over the years until 2007 when only 3 members remained
15 Mar 2003 – Bergstrasse , Germany
BPMC Bergstrasse (formerly Black Shadows) chapter formed
24 May 2003 – Adelsheim, Germany
BPMC Adelsheim (formerly Burning Wheels) chapter formed
22 Nov 2003 – Weinbergen, Germany
BPMC Weinbergen chapter formed
28 Feb 2004 – Leinefelde, Germany
BPMC Leinefelde chapter formed
17 April 2004 – Coburg, Germany
BPMC Coburg chapter formed
9 Oct 2004 – Germany
BPMC Bergstrasse splits to form BPMC Groß Umstadt chapter
BPMC Aalen (formerly Black Arrows) chapter formed
BPMC Neuwied chapter is re-formed
BPMC Elsenfeld chapter is formed
2004 – Chattanooga, Tennessee
10 hand picked members start BPMC
Membership in the US has grown steadily since 2004 to have 50+ chapters
2005 – Germany
BPMC Kitzingen (formerly Outlaws) chapter formed
BPMC Saar chapter formed
2006 – Germany
BPMC Sudheim (formerly Living Free) chapter formed
2007 – Germany
BPMC Villingen Schwenningenchapter formed
2008 – UK
Membership reinvigorates with new chapters all over England, Wales and Scotland, growing up to 10 chapters
19 Jan 2013 – Ottawa, Canada
BPMC Ottawa (soon to become South Side) opens
19 Jul 2014 – Ottawa, Canada
Falcons MC Cap City chapter (FUBAR Crew) votes to shut themselves down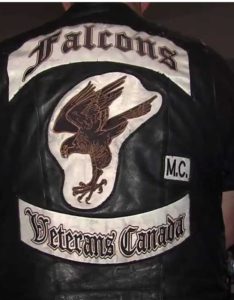 3 Aug 2014 – Ottawa, Canada
BPMC Ottawa East (formerly Falcons MC) chapter formed
15 Sep 2014 – Belgium
BPMC Belgium restarts after hiatus of 10 years
20 Jun 2015 – Grand Falls – Windsor, Canada
BPMC Grand Falls-Windsor formed (now Outlaws)
Aug, 2015 – Toronto, Canada
BPMC Ontario chapters switch their bottom rocker to Canada
Sep, 2015 – Toronto, Canada
Brothers Keepers MC patches over to become BPMC Toronto
15 Apr 2016 – Canada
Chapters in Ontario and Newfoundland come under single Constitution and elect National Officers
1 Sep 2016 – Canada
BPMC Barry's Bay officially opens
24 Sep 2016 – Poland
New chapter opens from Black Falcons MC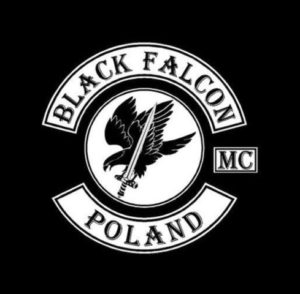 21 Oct 2016 – Canada
BPMC Fredericton officially opens
Dec 2016 – Philippines
Chapters open in Cavite (South Manila), Laguna and Angeles City
15 April 2017 – Canada
BPMC Trenton formed when members of Iron Dragons Canada from Trenton and Oshawa patch over to Black Pistons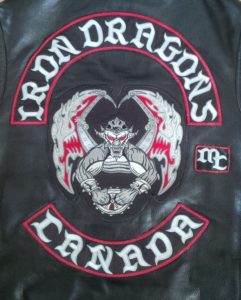 1 May 2017 – Canada
Black Flags MC Canada is sanctioned as the official support club of Black Pistons MC – Canada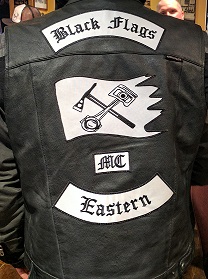 Black Pistons chapters exist in Germany, USA, England, Canada, Cymru, Channel Islands, Belgium, Ireland, Norway, Iceland, Switzerland, France, Poland, Philippines